PT Piaggio Indonesia Continues to Strengthen Customers' Premium Automotive and Lifestyle Experiences Through the Expansion of the Motoplex 4 Brands Network by Opening the 3rd Dealership in Bali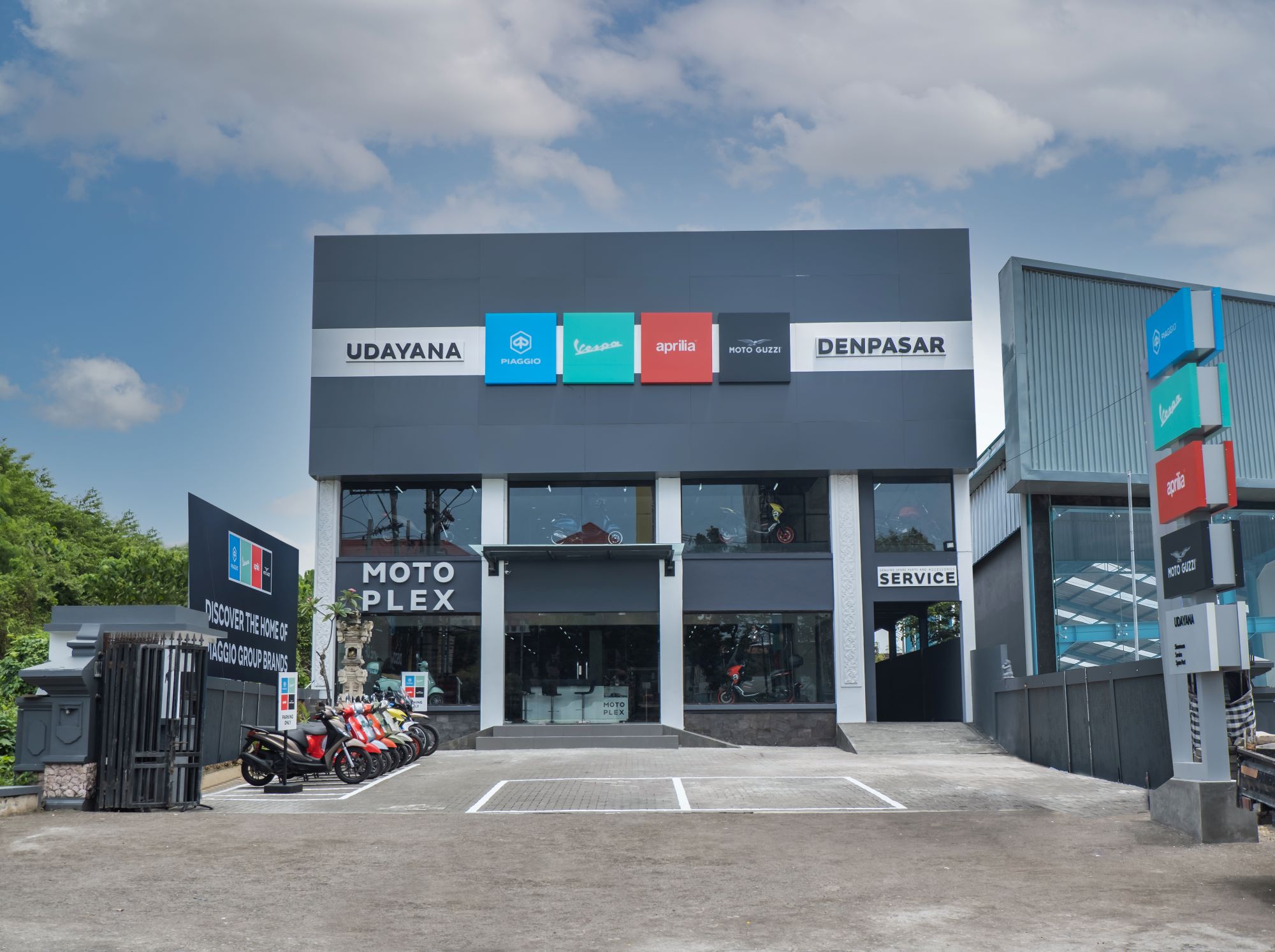 As a result of a reinforced collaboration with PT Udayana Satya Laksana, PT Piaggio Indonesia is pleased to announce the opening of the latest Motoplex 4 Brands dealership in Bali, located on Jalan Teuku Umar, West Denpasar. This Motoplex 4 Brands is the 52nd dealer nationally, the 8th dealer on the Island of the Gods, and the 3rd 4 Brand dealer in Bali, to offer premium automotive scooter and big bike products from the 4 iconic brands of the Group - Piaggio, Vespa, Aprilia, and Moto Guzzi.
Denpasar, January 25th, 2023 – Entering the year of 2023, PT Piaggio Indonesia continues to widen premium customer accessibility to its product and services, kicking off in Bali. The opening of the newest premium Motoplex 4 Brands dealership is in the West Denpasar, a notably commercial and premium district. The newest dealer in collaboration with PT Udayana Satya Laksana is built on an area of 800 square meters, which offers 3S services of showroom services, service areas, and sales of original spare parts from the Piaggio, Vespa, Aprilia and Moto Guzzi brands.
"This new 4B Motoplex now opened in Bali – the 3rd Motoplex run by our trusted partner PT Udayana Satya Laksana in just 2 years span - is a tangible proof of both our active collaboration with our partner and our clear commitment for premium strategy in the Island, where we firmly believe we can provide the best and premium experience for our 4-iconic Piaggio Group brands," said Marco Noto La Diega, Managing Director & Country CEO of PT Piaggio Indonesia.
Premium Dealer Motoplex 4 brands Udayana Teuku Umar specifically designed with Motoplex concept that offers a wider experience for customers and lovers of premium automotive, especially two-wheelers on the Island of Bali, along with the fact that two-wheeled driving is a vital necessity in their daily lives. Seeing this, PT Piaggio Indonesia together with PT Udayana Satya Laksana are here to provide practical, stylish, and premium driving solutions through a selection of selected brands: Piaggio, Vespa, Aprilia and Moto Guzzi.
Matching the optimism above, CEO Udayana Satya Laksana, James Indraman said, "PT Piaggio Indonesia with its 4 premium brands became our best partner in delivering options of premium and excellent two-wheeler vehicles for the people of Bali. We are excited to take an active part in offering convenience and easy access for customers to excellent Italian product: Piaggio, Vespa, Aprilia and Moto Guzzi, as well as to bring solutions for genuine accessories, spare parts need that ensure unforgettable and premium two-wheeled riding experience."
Similar with other Motoplex 4 Brands dealers, PT Piaggio Indonesia and Udayana Satya Laksana also combine modern design and a touch of typical Italian automotive service at their new official dealer that located on Jalan Teuku Umar no. 108 X – Denpasar Barat. Complementing the opening of the Premium Motoplex 4 Brand dealer at Teuku Umar, PT Piaggio Indonesia offers two special promos. First is Free Engine Oil which is valid for the first 200 vehicles as well as a 10% discount on services and spare parts for the Piaggio and Vespa brands. Meanwhile, Aprilia and Moto Guzzi customers have the opportunity to get free check-ups and free pads. This promo takes place to celebrate the dealer opening period and will end on February 25, 2023.