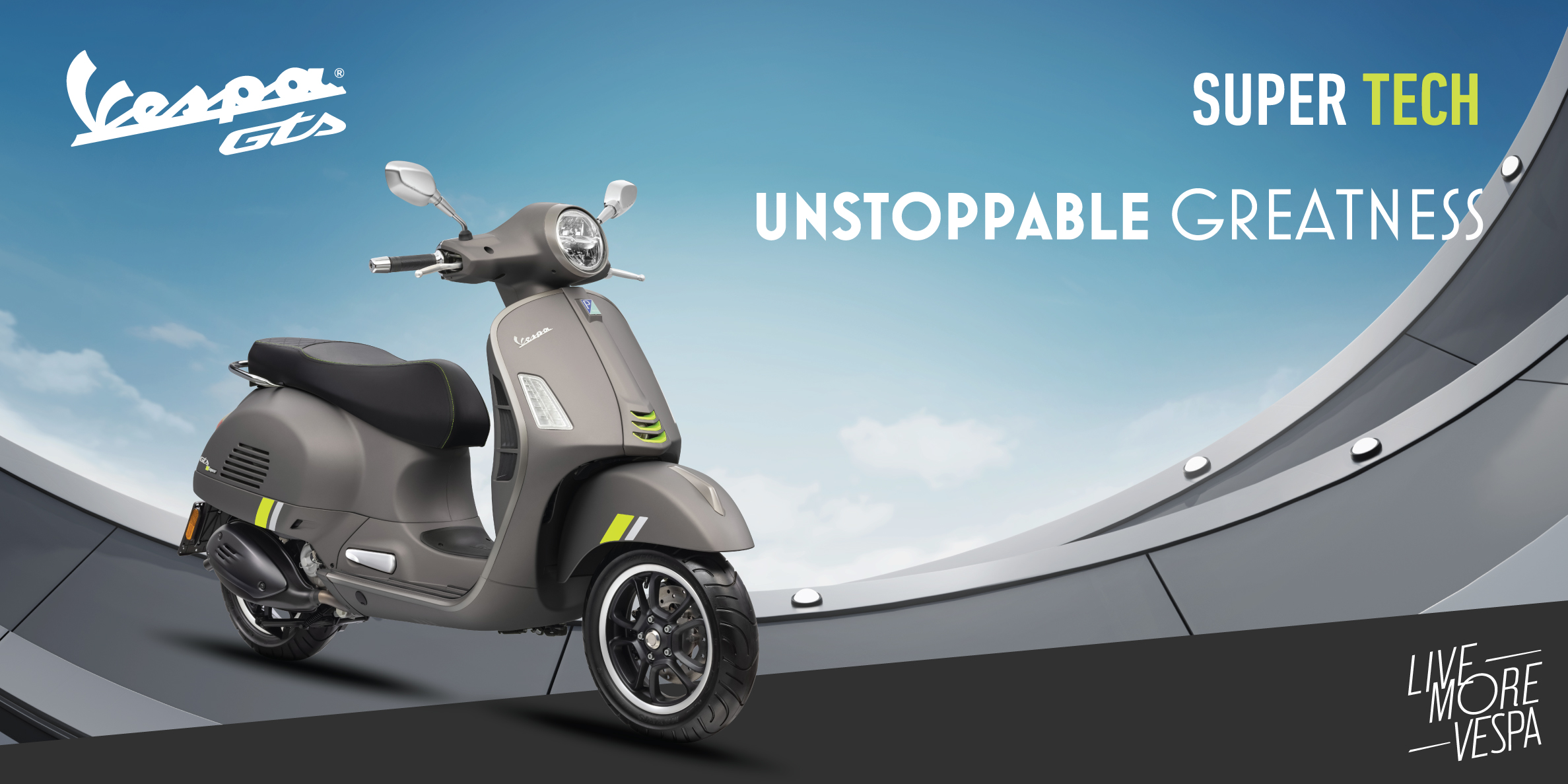 VESPA GTS SUPER TECH 300
The most advanced Vespa ever
Rp 156.300.000,-*
*) All Prices are On The Road (OTR) Prices, Jadetabek area. Prices in other cities may vary. The company reserves the right to make technical, stylistic, and appearances changes at any time.
RIDE MORE ADVANCED ON THE NEW GTS SUPER TECH
The new Vespa GTS Super Tech 300 represents the top and most powerful model ever seen on a Vespa. Vespa GTS Super Tech 300 offers a very strong character for its owners and best riding experience through advanced design, advanced engine and advanced technology.
Available in 2 colours: Grey Delicato and Black Vulcano.
Features
Front Tie Design with Horn Cover In Yellow
Dual Channel
, Tilt Sensor & Anti Slip Regulation
Rim Design in Black with Yellow Graphics
Dedicated Saddle and Shape
Vespa MIA Connectivity System with Navigator
Technical Specifications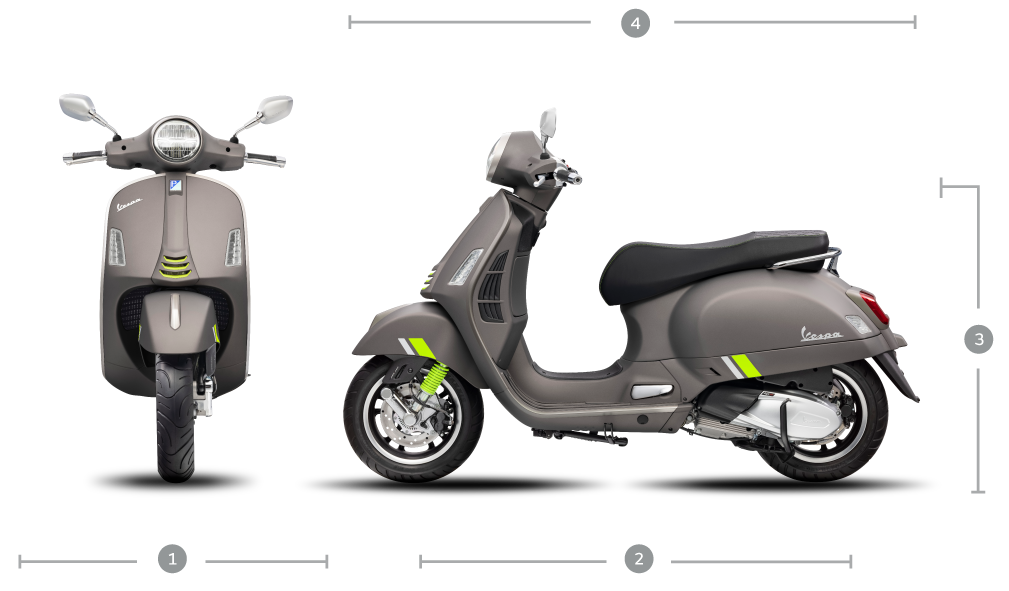 Engine
HPE, single cylinder, 4 stroke, 4 valve
Fuel Tank Capacity
8.5 (± 0.5) lt
| | |
| --- | --- |
| Engine | HPE (High Performance Engine), single cylinder, 4 stroke, 4 valve |
| Fuel Distribution System | Electronic Injection |
| Displacement | 278.3 cc |
| Max. Power | 17.5 kW @ 8,250 rpm |
| Max. Torque | 26 Nm @ 5,250 rpm |
| Cooling System | Liquid Cooling |
| Transmission | CVT (Continuous Variable Transmission) with torque server |
| Front Suspension | Single-arm with coil spring and single shock absorber |
| Rear Suspension | Double hydraulic shock absorber with preload adjustable on 4 positions |
| Brake System | 2 channels + ASR - Anti Slip Regulation |
| Front Brake | Stainless steel disc, Ø 220 mm with hydraulic control |
| Rear Brake | Stainless steel disc, Ø 220 mm with hydraulic control |
| Front Tire | Die-cast aluminum alloy 3.00x12" - Tubeless 120/70-12" |
| Rear Tire | Die-cast aluminum alloy 3.00x12" - Tubeless 130/70-12" |
| Length / Width | 1,950 mm / 755 mm |
| Wheel Base | 1,375 mm |
| Seat Height | 790 mm |
| Fuel Capacity | 8.5 (± 0.5) liter |
| Emission | Euro 3 |
| | |
| --- | --- |
| Engine | HPE (High Performance Engine), single cylinder, 4 stroke, 4 valve |
| Fuel Distribution System | Electronic Injection |
| Displacement | 278.3 cc |
| Max. Power | 17.5 kW @ 8,250 rpm |
| Max. Torque | 26 Nm @ 5,250 rpm |
| Cooling System | Liquid Cooling |
| Transmission | CVT (Continuous Variable Transmission) with torque server |
| Front Suspension | Single-arm with coil spring and single shock absorber |
| Rear Suspension | Double hydraulic shock absorber with preload adjustable on 4 positions |
| Brake System | 2 channels + ASR - Anti Slip Regulation |
| | |
| --- | --- |
| Front Brake | Stainless steel disc, Ø 220 mm with hydraulic control |
| Rear Brake | Stainless steel disc, Ø 220 mm with hydraulic control |
| Front Tire | Die-cast aluminum alloy 3.00x12" - Tubeless 120/70-12" |
| Rear Tire | Die-cast aluminum alloy 3.00x12" - Tubeless 130/70-12" |
| Length / Width | 1,950 mm / 755 mm |
| Wheel Base | 1,375 mm |
| Seat Height | 790 mm |
| Fuel Capacity | 8.5 (± 0.5) liter |
| Emission | Euro 3 |